Overhead Garage Door Repair and Service
over 30 years repairing garage doors in Calgary
Glenmore Overhead Doors has the experience and expertise to repair almost any damage to garage doors, mechanisms, components and electrical operators (motors). In some instances it's more feasible to repair garage doors rather than replacing them.
We warranty our garage door repairs for one year.
Garage doors tend to be used frequently and as such are susceptible to wear and tear. Because many home owners don't service garage doors as often as necessary the lack of service will increase complications with your garage door over time. It's important minor issues with your garage door be addressed as soon as possible.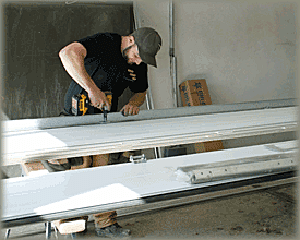 From broken garage door springs, seized rollers, frayed cables, to the door itself, trust the experts at Glenmore Overhead Doors to deliver professional, reliable, and efficient garage door repair.
contact us for door repair / service